Welcome to Blessings 2 Sew by Jacqueline Hargrove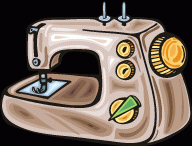 Thank you for visiting my website. I am very anxious to create, design and make anything that your mind can imagine. I love to sew and I would love to help you with your sewing needs. Please browse my site and see some of my favorite designs!

Visit my design portfolio and favorite pages!
Jacqueline's Designs pg. 2
The Sewing House pg. 3
Event Planning Services
Sewing Supply Vendor

Angelfire is not only free but . . .